Aspen Communications
Benefits
25+ Years Experience.  Aspen Communications and our employees have over 25 years in telephony experience.
Single Source Provider. Whether you're looking for phone service, internet service, a phone system, network help, low voltage wiring, security cameras or access control Aspen can be your single source for it all.
Certified Knowledge. At Aspen our technicians are manufacturer certified, providing you with the comfort of knowing the job is done right.
Our Promise. Aspen Communications is not perfect and we do make mistakes from time to time.  We want you to contact us if you are not happy with a product, person or service we are providing you.  We will sit down with you and work together to resolve the problem quickly.  Please contact the owners directly, Toni or Tim at 888-900-5244 or email owners@aspenbts.com.  we value and appreciate your business.
AvailableServices
Hosted Voice over IP Hosted VoIP is a cloud based telephone system with enterprise class features at a low fixed monthly cost. With hundreds of available features your Hosted VoIP telephone system can be tailored to fit your business needs. Hosted VoIP is complex enough to handle all of your company's calling needs, yet simple enough that you can administer the system yourself. Hosted VoIP also provides your business with a fixed monthly fee and eliminates expensive repairs and upgrades

See more

Business Telephone Systems Aspen is an authorized dealer for Panasonic, Altigen, Avaya and Shoretel.  We also sell and service older legacy equipment like Nortel, Meridian, Norstar, Lucent, Merlin Legend and Magix telephone systems.  Our goal is to maintain your older equipment until your ready to replace it.

See more

Closed Circuit TV and Security Cameras Aspen Communications provides our customers with advanced new technology, innovative product features and a redefinition of product value. Our product offerings are truly the front runners in digital CCTV solutions.

See more

Access Control Access can be controlled using any combination or the following methods; Fingerprint (biometric) verification, Key Card, Key Fob, PIN Code verification or even Facial Recognition verification.

See more

Low Voltage Wiring Whether you need Cat5e/6/6A structured cabling or fiber optic work Aspen can help you with all of your low voltage communication wiring needs.

See more

AVG Cloudcare AVG Cloudcare provides complete protection for your business or individual computers. It provides all of the standard protection you expect from a traditional Antivirus Program but with added benefits of managability from a central internet portal with subscription based payments so you only pay for what you need and your license will never expire as long as your subscribed.

See more
Client Testimonials
Sierra Nevada Construction

Sierra Nevada Construction recently had the pleasure of working with the Technical Team at Aspen Communications installing ShoreTel Solutions at one of our offices. We had been using a certified consultant to provide the ShoreTel solutions at two of our offices but developed sever problems with communications between the offices. We dealt with the issue for months trying everything from the ShoreTel side to the MPLS side and we could not pinpoint the cause of the latency. I was referred to Aspen Communications by ShoreTel and within 30 minutes of being on my system they were able to isolate the issue and resolve it. I have sense changed ShoreTel support to Aspen and they have been instrumental in identifying other bottlenecks on my network and providing solutions. James Gaba - Sierra Nevada Construction, Inc.
Aspen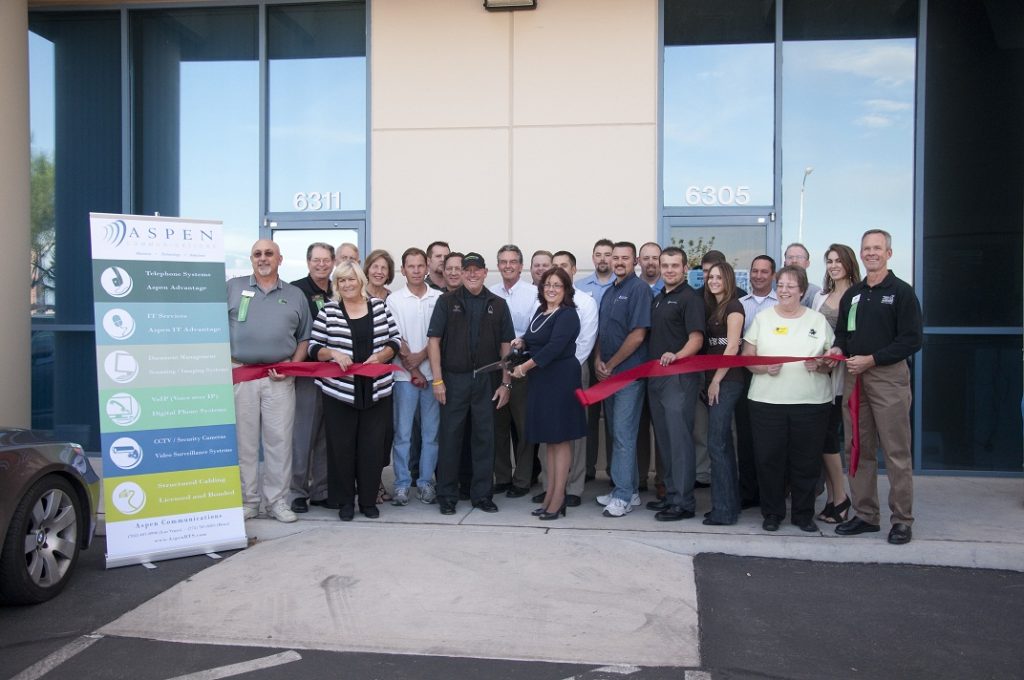 Aspen Communications Open House at our offices: 6392 McLeod Drive Suite 4 Las Vegas, NV 89120
Aspen Communications has been in business in Las Vegas and Reno Nevada for 15 years.
We support ShoreTel, Avaya, Nortel, Norstar, Panasonic, Adtran and Lucent  Telephone Systems.
Our cloud based Hosted VoIP partners include industry leading Voice Carrier, Vonage Business and Jive Communications.
With our AVG Business Cloudcare Aspen can provide Managed Anti-Virus, Content Filtering, Single Sign On (SSO), Email Protection and Backup Services.
As a certified Axis Partner Aspen can provide leading edge IP based CCTV and Access Control solutions to keep your business safe and secure.
Aspen Communications partners with all of the local phone and internet providers in Las Vegas, Reno, Lake Tahoe and Truckee allowing us to help manage those relationships so you don't have to.